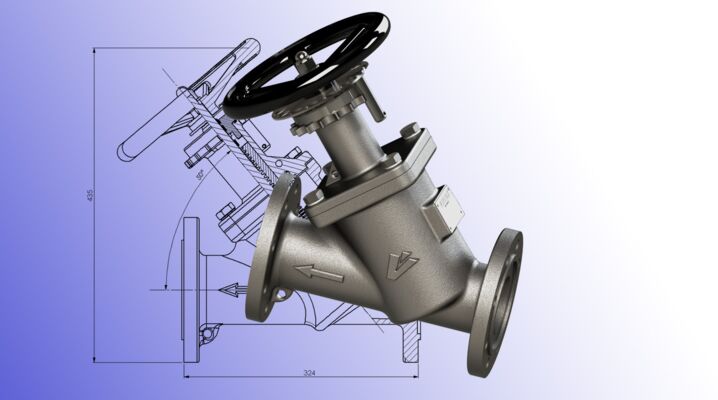 Angle Seat Valve SSV-80
The angle seat valve SSV-80 is a bellows shut-off valve for rail cars transporting liquids and liquified gases as well. The valve body is available in both, cast iron and cast stainless steel. As standard all the internal parts are made in high-alloyed steel.
The materials of the trapezoid spindle and nut avoid the slip-stick-effect and allow a turning of the spindle without jerking.
The valve distinguishes by its smooth-running actuation which allows a fast opening and closing of the armature.
The driving spindle is protected against the medium as well as the environment. A sustainable trouble-free operation for long time is guaranteed. There is the lead screw which is covered by the housing completely so damage due to wear from dirt and dust is prevented. In addition the inbuilt stainless-steel bellows protects the spindle against the medium and seals the valve leak-proof against the environment.
The multi-part valve cone is easy to maintain and enables an easy change of the valve seal. The seal is made of PTFE by default and is available in other materials on customers demand.
The spindle throughfeed is sealed additionally with a special shaft seal which provides a leak-proof valve even in case of the rupture of the stainless-steel bellows.
Due to the design of the internal space of the SSV-80 a streamlined flow is considered and results in an advantageous Cv of 130m³/h. This in turn contributes to an efficient fast unloading of the vessel.
Technical Data
Model
SSV80-GS
SSV80-ES
Application

Rail Vessel
Certified According

EN 14432:2014
Actuation
Handrad
Pressure Rate

PN 25
Nominal Diameter

DN 80
Flange Connection

EN 1092-1, Form F
Cv-Value

130 m³/h
Length

330 mm
Temperature

-40 bis +180 °C
Wetted Material

1.1138, 1.4571, PTFE
1.4581, 1.4571, PTFE
Valve Seat

PTFE
*Technical data are subject to change without notice