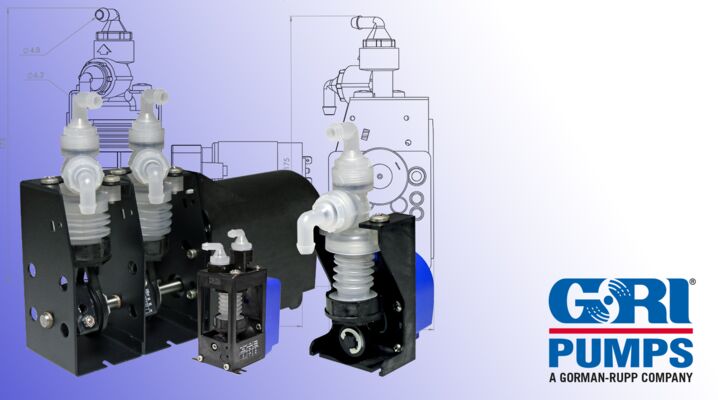 Bellows Pumps
Bellows metering pumps made by GRI were specifically designed for metering applications requiring low discharge pressures. The bellows utilize GRI's proven proprietary blend of polypropylene materials to provide an accurate and economical, long-lasting metering pump. A wide selection of valve and O-Ring elastomers produce chemical resistance pumps capable of handling both corrosive and non-corrosive fluids.
The bellows metering pumps operate on a positive displacement principle. The rotation of the motor shaft is transmitted into an up and down linear motion through an adjustable concentric crank mechanism. This motion provides a continuous compressing and relaxing force on the bellows module, forcing fluid between two check valves located in the module's valve body. Up to four separate bellows modules can be operated by single motor for proportioning up to four separate fluid mediums. The flow rate of each module is independently adjustable. Multiple bellows modules operate out-of-phase with each other for most efficient power usage.
Any combination of ½", ¾", 1″, 1-1/2″ and 2″ bellows may be used in a pump. However, the total output must be limited to a maximum flow rate of 3000 ml/min.
For further interest please don't hesitate to contact us under info@ventaix.de