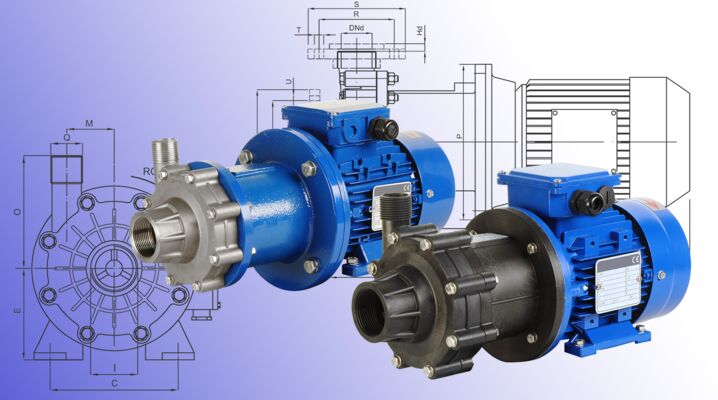 Magnetic Coupled Pumps
We supply chemically resistant magnetic coupled centrifugal pumps made of plastic and stainless steel for applications in all industrial branches. The power transmission between motor and pump happens by a non-contact magnetic coupling. There is no shaft reaching through the pump housing. Consequently, there is no shaft seal required. This feature makes the magnetic coupled pump ideal for pumping chemicals.
Our plastic magnetic coupled pumps are made of PP (Polypropylene) and PVDF (Polyvinyldenfluoride) and can be used for a large variety of applications where acids, alkalines and other aqueous solutions have to be handled. The metal version of the magnetic coupled centrifugal pumps can be supplied in stainless steel AISI 316, Hastelloy or Titanium. These materials make the pump capable to handle solvents and other media at high pressure and high temperature.
The magnetic coupled centrifugal pump MKPG is not self-priming and made for continuous operation.
Technical Data
| | |
| --- | --- |
| Flow Rate | 0,2-130 m³/h |
| Total Head | 48 m |
| Temperature | -40 / +160 °C |
| max. System Pressure | 4-10 bar |