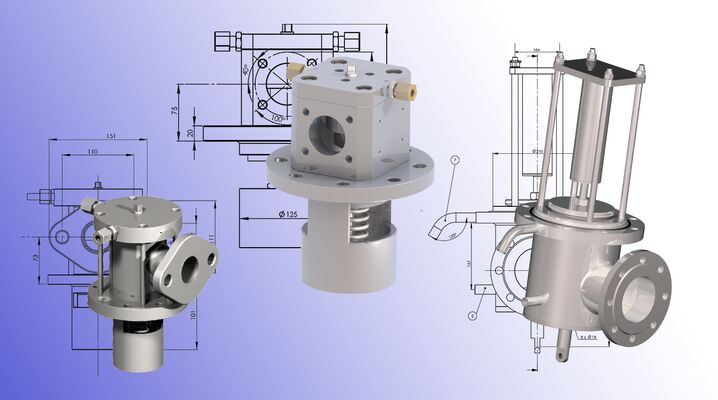 Valves for Hazardous Material Transportation
The effective transport of hazardous liquids is characterized by safety and reliability of the process. All modules and parts of the process of hazardous material transport are subject to strict safeguards and quality control. Therefore, the valves and accessories VENTAIX has designed and produced for more than 20 years are distinguished by their safe and reliable function. In addition to the safety relevant aspects, we place emphasis on all of our designs being simple and easy to maintain.
One of our primary focuses is the design and production of hydraulic driven vent valves for rail tank cars. These valves are necessary to vent a tank while it is being loaded or unloaded. In general, vent valves are located on top of the vessel and difficult to reach since rail tank cars are more than 3m high. However, it is preferable to operate the vent valves and the purging valve from the same location. For this reason, the purge valve in the bottom of a tank is hydraulically connected to the vent valve on the top of the tank and opens only after the vent valve has been opened. Compared to a mechanical actuation of the vent valve, there are many benefits of the hydraulic system. The hydraulic system can generate large forces without bending or damaging other actuation components, independent of weather conditions. In addition, there are no disturbing inside components in the tank to connect the purge valve with the vent valve which makes cleaning of the tank much easier. The most important advantage of the hydraulic system is a safety feature. In case of an accident, the hydraulic driving system of the vent valve separates from the closing valve body. Because no driving rod is used in this system, unlike mechanical systems, the valve cannot be opened accidentally.
We also design other components for rail tank cars. Contact us – we are looking forward to your inquiry.