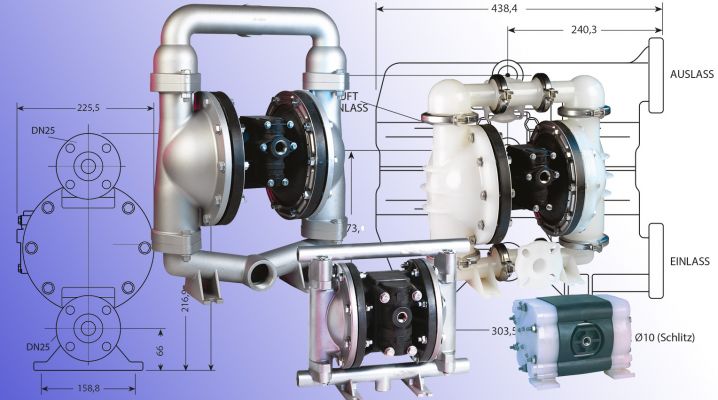 Air Operated Diaphragm Pumps
Air diaphragm pumps are specifically designed to pump abrasive fluids with high loads of solids or high viscosity. Furthermore, air diaphragm pumps are often used if the pumped liquid has a limited acceptance of shear forces which denies the use of a centrifugal pump. Air diaphragm pumps are dry-run capable, dry self-priming, and continuously adjustable. In addition, our air operated diaphragm pumps don't have a dead-center as a result of a patented, lube-free air valve system, which guarantees a continuous and trouble-free operation.
The series MP air diaphragm pump is available in plastic such as PP (polypropylene), PVDF (Polyvinylidene fluoride), NYLON (Polyamide), and conductive NYLON. The pump is also available in aluminium and AISI 316 stainless steel. In combination with a variety of membranes and valve materials, these pumps can be used with almost all liquids.
Technical Data
Product
MP 7x7
MP 15x15
MP 32x32
MP 40x40
MP 50x50
MP 80x80
Connection Plastic Version

1/4" Female
1/2" Female
DN25/1''
DN40/1½"
DN50/2''
-
Connection Metal Version
-
1/2" Female
1'' Female
DN40/1½"

2'' Female

3'' Female
Flow Rate (max.)
16,5 l/min
65 l/min
156 l/min
492 l/min
681 l/min
965 l/min
Total Head (max.)
68 mWS
82 mWS
82 mWS
82 mWS
82 mWS
82 mWS
Temperature (max.)
66 °C / 93 °C
66 °C / 93 °C
66 °C / 93 °C
66 °C / 93 °C
66 °C / 93 °C
93 °C
Driving Pressure (min.)
1,3 bar
1,3 bar
1,3 bar
1,3 bar
1,3 bar
1,3 bar
Driving Pressure (max.)
6,8 bar
8,2 bar
8,2 bar
8,2 bar
8,2 bar
8,2 bar
Suction Head (dry) with PTFE Balls

5 m
3 m
3 m
3 m
3 m
3 m
Suction Head (dry) with other Balls
-
4,5 m
4,5 m
4,5 m
4,5 m
4,5 m
Suction Head (dry) with MAX-PASS-Valves

-
5,5 m
5,5 m
-
-
-
Particle Size (max.)
1,6 mm
3,2 mm bis 9,5 mm
6,4 mm bis 19 mm
6,4 mm
6,4 mm
11,1 mm
Connection Air Supply
1/4" IG
1/4" IG
1/4" IG
3/4'' IG
3/4'' IG
3/4'' IG
Connection Air Exhaust
1/4" IG
1/4" IG
3/8" IG
3/4'' IG
3/4'' IG
3/4'' IG
Housing Material

PP, PVDF, NYLON


PP, PVDF, NYLON
Aluminium, Stainless Steel
PP, PVDF, NYLON
Aluminium, Stainless Steel
PP, PVDF, NYLON
Aluminium,Stainless Steel
PP, PVDF, NYLON
Aluminium, Stainless Steel
Aluminium
Membrane Material

Geolast, Santopren, Viton, PTFE
Geolast, Santopren, Viton, PTFE
Geolast, Santopren, Viton, PTFE
Geolast, Santopren, Viton, PTFE
Geolast, Santopren, Viton, PTFE

Geolast, Santopren, Viton, PTFE

Data Sheet (Download)