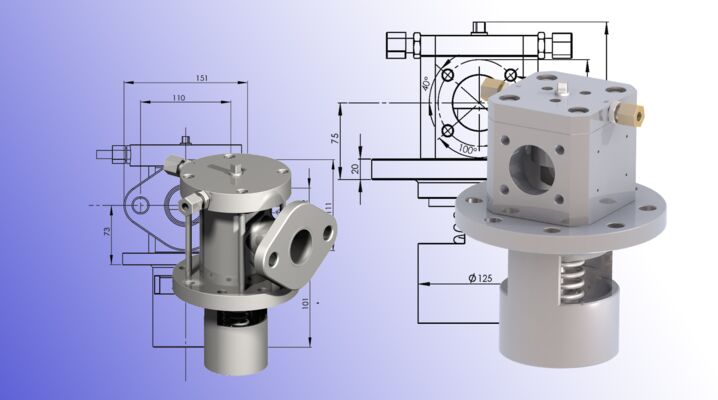 Hydraulic Driven Vent Valve
The equalization of pressure is essential for loading and unloading rail tank cars. There is a high risk for the operating personnel as well as for the environment and assets if tanks are not well ventilated (Example for non-vented tank). Therefore, vent valves are essential for ensuring the safety of tanks used for transporting and storing liquids. Their independent and reliable function is the key safety issue in any situation.
Series ZB2-100 forced ventilation valves are incorporated in the hydraulic circle of the loading and unloading process of the rail car tank. Regardless of weather and operating conditions, the valve opens reliably. The modular design of series ZB2-100 yields additional safety features. In case of an accident, the hydraulic drive of the valve can be damaged or even totally detached from the vessel without opening the valve and purging liquid to the environment.
Series ZB2-100 has the appropriate approval according to EN 14432:2014 and can be used on any approved rail tank car.
Technical Data
Type
ZB2-100
ZB3-65
Actuation

hydraulic
Pressure Range

PN 10
PN 6
Venting Ports
2 x DN 50, Rectangular Flange
1 x DN 40, Oval Flange
Length Beneth Top Of Tank

140 mm
100 mm
Length Above Top Of Tank
150 mm
150 mm
Flange
DN 100
DN 65
Hydraulic Port

DIN 2353
Max. Hydr. Pressure

12 MPa
Temperature
-20 °C bis +80 °C
Wetted Material

1.0570 Zinc Plated, 1.4305, 1.4310, FPM (Optional: 1.4571, Viton GF, PTFE)
Valve Seal

PTFE (Optional: Neoprène, Viton GF)
FPM (Optional: Viton GF, PTFE)